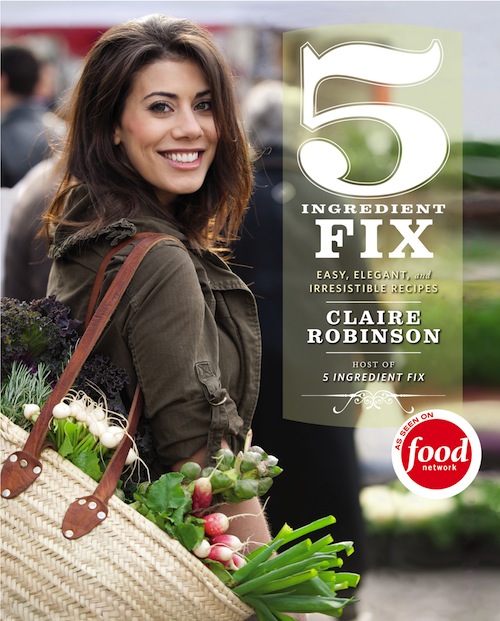 What I'm Reading: 5 Ingredient Fix by Claire Robinson (Food Network Host)
Full Disclosure: The lovely folks over at Grand Central Life & Style were kind enough to send me a review copy of this beautiful cookbook.
Initial Thoughts: This is one of the most gorgeous cookbooks I've seen in a long time. The photos are absolutely stunning and the layout is so warm and welcoming.  The cookbook opens with a letter from Claire, followed by her 5 ingredient philosophy (which I think I can totally get on board with) and even a section on Kitchen Basics.
Then we jump right into the recipes.  While I wish there was a photo for every recipe in the book, the ones that do exist (of which there are many) are of such high quality, it makes up for the pages with just text.  Every recipe is formatted in the same way: Paragraph style instructions down the center (I usually prefer numbered steps), with the 5 ingredients on the left. Serving size just below the ingredients and then, my favorite part: "What makes this recipe really sing" and "What to toss in if you have it".  I love this.  When you're only cooking with 5 ingredients, it's important to know why the chef chose the few ingredients she did and how you can make them really shine.  I love that these recipes are complete with just 5 ingredients, but that Claire acknowledges that adding a sixth can sometimes make the dish even better.
The Plan: I've decided that the best way for me to get the most from this cookbook will be to quite simply cook my way through it— while taking you guys along for the adventure, of course.  So for the next several weeks, I will be cooking from the pages of this bad boy and sharing my experience with you all here.
Stay tuned for the first menu after Christmas.  I think I'll start with:
Roasted Beets with Oranges and Goat Cheese
Buttermilk Pecan Chicken
Tomato & Vidalia Onion Gratin
Frozen Lemon Whip with Blueberry Sauce
To follow along with Kate (& Claire!), visit Kitchen Couture, a blog for fashionable foodies who love a good bargain!